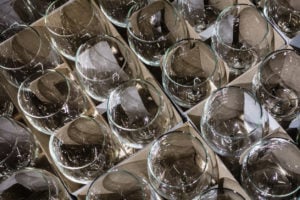 If you ship glassware, china or other fragile items, you know how nerve-wracking it can be to send them into the rough-and-tumble transit world. Once they're out of your control, anything can happen.
But there are steps you can take to protect them and your sanity. You might call it the "wrap, box, pad, seal, mark" approach. It seems pretty simple, but it's actually a little more complicated than it sounds.
5 Steps to Shipping Glassware Without a Disaster
When you're packing glassware or other breakables, the goal is to create a cocoon that can withstand bumps, pressure, shaking, punctures and other potential sources of damage. Here's a short primer on how to do it:
1. Wrap it
What you'll need: newsprint or Kraft paper, small-cell bubble wrap, large-cell bubble wrap, cellophane tape, stretch film.
Wrap several layers of small-cell

bubble wrap

around each item and use cellophane tape to close it in the middle and on the ends, but don't use too much tape as it can

reduce

the bubble-wrap's ability to serve as padding.
Add a layer of large-cell bubble wrap on each item and secure it with cellophane tape.
Wrap each item in

stretch film

, alternating the direction of the wrap, to a three- or four-layer depth.
2. Box it
What you'll need: appropriately sized corrugated cardboard box, carton sealing tape.

Find a box that is at least a half-inch larger on all sides than the items to be shipped so you can add packing material to stabilize the products and add protection from all the sources of damage en route.
Use two layers of carton sealing tape to seal the bottom of the box.
3. Pad it
What you'll need: air pillows, packing peanuts (environmentally friendly peanuts are available) or loose fill, and carton sealing tape.
Place the packing material so it completely surrounds the product—top, bottom and sides.
Don't use too little packing material. Not enough defeats the purpose. The packing material should eliminate movement of the product in the box. To check for movement, shake the box gently
Apply pressure to the top, bottom and sides of the box. If there's any give, add more packing material. However, don't use so much packing material that you have to compress it to make it fit.
4. Seal it
Once you're sure the box isn't over- or under-filled with packing material, close the top of the box and seal it with two layers of carton sealing tape.
5. Mark it
What you'll need: "Fragile" stamp.
Use your stamp to mark on the top and all four sides. The warning might not stop rough handling, but it will at least make it a little less likely.
Safely Ship Your Glassware
Unfortunately, there are no guarantees that your glassware, china or other fragile products will make it through the shipping gauntlet unhurt. However, following the steps outlined above will improve the odds.
With the right packaging manufacturer, you also have access to custom solutions to your shipping needs. It's a good idea to talk to your manufacturer to make sure you're using the best materials and options for your product. You could save time and money.