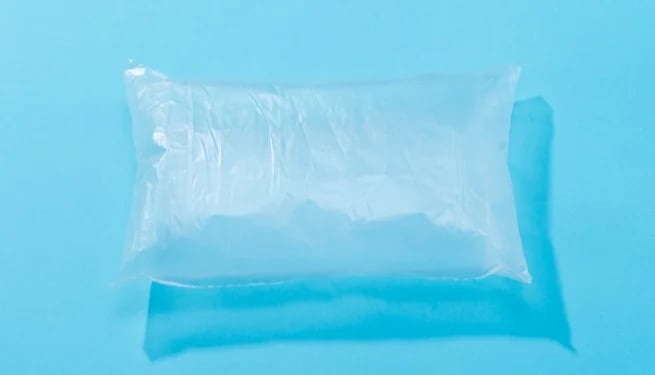 From traditional packaging peanuts to molded pulp trays - let's not forget air pillows - the number of void-fill options can get overwhelming.
When trying to find a more sustainable packaging option, it's tempting to pick the first paper or foam fill option. Why spend more time on a decision than necessary?
But did you know that incorporating air pillows into your packaging does more than provide protection to its contents?
In addition to weight reduction and increased safety, air pillow packaging brings a host of other benefits to shipping goods.


10 Benefits of Using Air Pillows for Shipping
Beyond increased safety and lightweight, air pillows provide a number of packaging benefits. From providing a cleaner packaging experience to bulk-savings opportunities, here are the top 10 benefits of using air pillows for shipping:
1. Increased Safety
Air pillows are a great void-fill option, best used for blocking or bracing items during shipping. If you need something to stay put on, this can be a better alternative to something like Styrofoam.


2. Increased Flexibility
Air pillow packaging gives you flexible options. Air pillows are available in a variety of films and sizes to fit your specific need. We carry the right combination of film blends and inflatable designs to fit any of your needs.


3. Light-Weight Void Fill Option
This type of void fill is also extremely lightweight, which makes it a popular option to help keep shipping options down as opposed to heavier void fill that may add enough weight to packages to drive costs up.
4. Cleaner Packaging Experience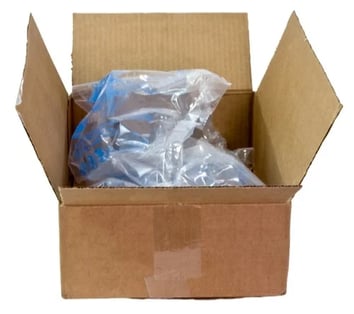 This is a "clean" type of protective packaging. When customers open their packages, there's no danger of that dreaded explosion of packing peanuts—no need to run for a broom! Similarly, in shipping and fulfillment centers, you won't have the hassle of packing peanuts or other types of loose packing materials littering floors and surfaces.
5. Cleaner Product Presentation
In addition to avoiding messes from loose void-fill materials like packing peanuts, using air pillows also lessens the likelihood of protective fillers clinging or getting stuck to your products, whether by static electricity or due to the materials in the packaging.


---
Air pillows are commonly used when shipping electronic products and components. But the pillows are just one factor of having an effective protective packaging solution.
Have questions about how to make your packaging more protective and efficient? Download our free guide below:
---
6. Sustainable Packaging Solution
There are green options available, which is increasingly a concern among customers who are looking for eco-friendly, biodegradable, or recyclable options. Air pillow packaging comes in biodegradable and recyclable varieties, allowing you to fulfill customer needs.


7. Buy-in-Bulk Savings Opportunities
Many types of air pillow packaging need to be unrolled and inflated onsite. This allows you to buy rolls of packaging material in bulk while saving on storage space for large rolls of inflated cushioning.


8. Eco-Friendly and Reusable
Air pillow packaging is completely reusable in a way that other packing materials like peanuts or foam are not as a result of their various dyes as well as their environmental impact.


9. Lower Long-Term Cost Impact
The average cost per package to use air pillows packaging materials is often lower than that of other options because despite having a higher initial purchase cost, you are using less material per package, so you are saving money in the long run.


10. Supplies Additional Support
Air cushion packaging is a good supplement to other forms of protective packaging, as it provides ample protection of the products while also keeping the weight of the package down to reduce shipping costs when combined with other packaging materials.
Air Pillow Packaging | The CS Packaging Advantage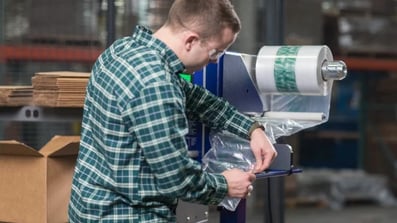 The packaging you choose for your products should provide next-level product protection without unnecessary amounts of paper-fill or messy packaging peanuts. Air pillow packaging delivers on multiple fronts.
With biodegradable air pillow options, your product's packaging is both protective and stylish while sustainable and eco-friendly.
Need more information on sustainable packaging? Check out one of our other Sustainability blogs below:
Have questions on protective packaging instead? Download our free Protective Packaging Guide below or reach out with any questions
(Editor's note: This blog was originally published in June 2022 and was updated in October 2023 to reflect current information.)