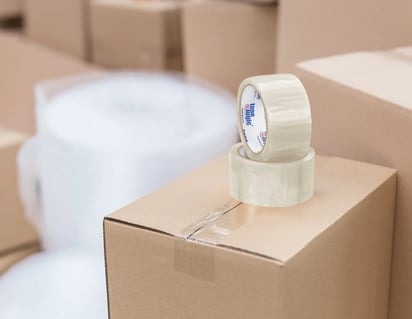 When it comes to shipping your products, ensuring that they are in a box that will not only hold their weight but also keep them safe during transit as well is imperative for any business.
While you could run to your local supermarket or post office and grab a bundle of their stock boxes, you risk damaging your product by overestimating the weight limitations of the box.
In order to avoid this issue, we've broken down the different corrugated boxes' weight limits and their classes.


Determining Corrugated Box Weight Limits
For comparison purposes, we include both the Mullen burst test and edge crush test (ECT) figures. The burst test represents how much pressure can be applied before the wall of a box will rupture.
The edge crush test is an indicator of the top-to-bottom pressure needed before a box will be crushed. This is important if you will need to stack a number of boxes, especially in a warehouse environment, and is the most popular box standard.
What Factors Affect the Strength of Corrugated Boxes?
There are several factors that affect the overall strength of corrugated boxes such as the paper type used in the liner board, the fluting profile, and the level of thickness of the base paper used in the liner board and fluting
The amount of weight and type of paper combine to play a crucial role in a corrugated box's ability to withstand the weight of other packages in transit. And corrugated boxes can be classified by their weight capacity, such as:
The corrugated packaging weight class that you need depends on the types of products you need to ship. Luckily, every weight class can be ordered in bulk or small volume, meaning we have you covered no matter what packaging solutions you may need.


Single-Wall Corrugated Board | Extreme Lightweight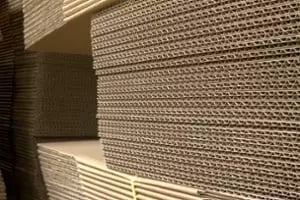 When shipping extremely lightweight products up to 20lbs, integrating corrugated materials with a burst testing rating of 125# or a 23 ECT rating will provide sufficient protection and durability while minimizing the associated packaging costs.
Pending your item is slightly heavier than 20lbs but lighter than 35lbs, it's important to choose a corrugated box option that has a burst test rating of 150# and 26 ECT in order to account for the additional weight.
Extremely lightweight corrugated boxes typically are produced using single-faced boards, meaning they include one corrugated medium glued to one flat sheet of lin board. This leaves the flutes visible on the inside while making the material easy to wrap around items.
When it comes to low-weight products, using these types of corrugated materials also provides superior protection against crushed edges or stacking damage during shipping.
---
Have questions about our custom-use packaging? Check out the free guide below:
Single-Wall Corrugated Board | Up to 65lbs
For products that weigh over 35lbs but under 65lbs, choosing a corrugated material with a burst test rating of 175# or 200# (29 ECT, 32 ECT respectively), is imperative to ensuring the safety of your packaging and products.
Corrugated boxes with a burst rating of 175# (29 ECT) can hold up to 50lbs while maintaining the integrity of the boxes structure and strength. Boxes with a 200# burst rating (32 ECT) can hold up 65lbs.
32 ECT and 200# Mullen single wall boxes are the most standard corrugated boxes. Constructed from one corrugated medium which is glued between two sheets of liner board for added strength, they come in a variety of sizes to meet your packing and shipping needs.


Single-Wall Corrugated Board | 66-100lbs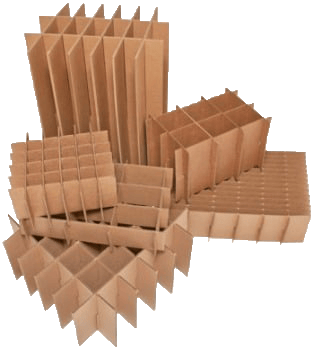 With added weight comes added structural requirements for shipping and once your product reaches 66+ lbs, its important to select a corrugated material with a burst test rating of 275# (44 ECT) or more.
Incorporating corrugated boxes with an ECT of at least 44 means the material can hold up to 100lbs without risking structural damage or box failure. These heavy-duty single-wall boxes are able to withstand heavier amounts of weight while being handled, shipped, and stored.
Although some single-wall corrugated boxes can capably hold up to 120 pounds (Burst test rating of 350# and ECT of 55#), this range is generally considered the tipping point where you want to start thinking about double wall construction for added durability.
Double-wall means that there are three sheets of liner board with two mediums in between, making two "walls" and greatly increasing the box strength.
Double-Wall Corrugated Board | 81-120lbs
When shipping products greater than 80lbs, corrugated materials must have added layers of protection and durability. Double-wall corrugated materials, with the added material and additional "wall" greatly increase the strength of the box.
Entry-level double wall boxes start with an ECT rating of 48 & Mullen Test rating of 275#, meaning they can hold up to 100lbs of weight while keeping structural integrity, security, and durability during transit and storage.
The next strongest box is 51 ECT or 350# Mullen double-wall, using a stronger liner board to hold up to 120 pounds.


---
Pro Tip: For lighter-weight products (under 80 lbs) a double-wall corrugated material is also available, with an ECT rating of 42 and a burst test rating of 200#, these boxes can carry up to 80lbs while providing superior protection for its contents.
---
Double-Wall Corrugated Board | 121-180lbs
As the weight of your shipment increases, the chances are that its value will increase immensely as well. With increased value, there is no time to scrimp on the packaging; instead, it is the time to call in the big guns – the triple wall.
Here, four sheets of liner board are constructed with three mediums in between, making 3 "walls" for maximum toughness. With their triple layer of protection, these corrugated boxes are rated 400# up to 600# on the burst test and from 61 ECT up to 82 ECT. These types of boxes are able to hold up to 180lbs of material while providing added security and structural durability when in transit.



Corrugated Weight Limits | Work With Trusted Suppliers
Aside from just the ability to hold many different weights, corrugated boxes are one of the best industrial packaging solutions thanks to their ability to protect your products, customize your brand, and keep your total costs low (not to mention the environmental perks).
The possibilities are endless, from the lightest to the heaviest of items there is a corrugated box that will cradle your product safely from start to finish!
For more information about custom packaging solutions, contact us at CS Packaging today or download our free Protective Packaging guide below:
Editor's note: This article was originally published in October 2020, and was updated in September 2022 to reflect new and up-to-date information.