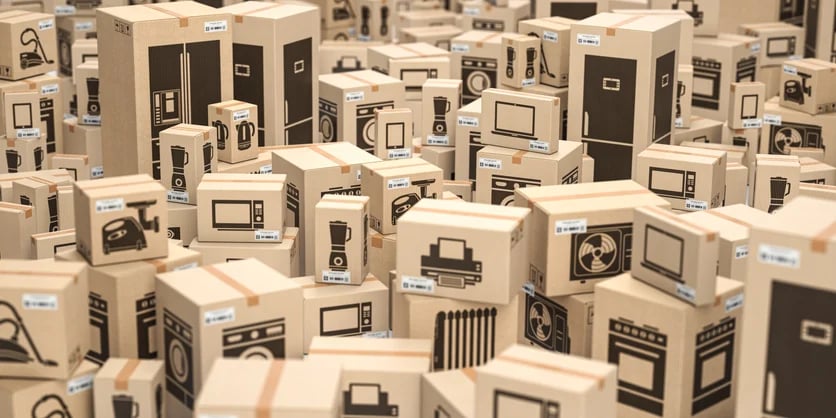 A lynchpin for any e-commerce company's success is a strong & reliable supply chain.
That should come as no surprise – without one, it becomes nearly impossible to run a business and deliver for clients no matter the size of your company.
Though dependability among those in your business's supply chain is a requirement at any time, it's vital in e-commerce during the last stretch of the calendar year.
Annually the busiest time for almost every online company, the fourth quarter (aka holiday season) is also the most financially impactful. The last thing any e-commerce entrepreneur or established company needs is a convoluted supply chain that interrupts or stops business as usual. A delay or failure at any stage has a domino effect that's sometimes hard to overcome.
Partnering with an established single-source e-commerce packaging solutions provider helps you consolidate an element of your supply chain while upgrading efficiency. Rather than working with multiple vendors for packaging materials and shipping supplies, turning to a trusted provider streamlines your processes and allows you to focus on other important facets of your business.


3 Reasons to Partner with a Single Source Packaging Provider
As businesses of any sort don't operate in a vacuum, finding reliable partners is a critical component of being able to meet customer expectations.
When it comes to e-commerce packaging solutions, a single-source supplier simplifies a component of supply chain management, allowing you to redirect your internal resources elsewhere.
A single-source packaging provider understands the needs and challenges of the process of e-commerce packaging design. They help with:
Meeting sustainability requirements

Optimizing logistics

On-brand packaging
Meeting Sustainability Demands/Requirements
Now more than ever, consumers care about their impact on the environment. That concern extends to the products they buy and the packaging their purchases come in.
Beyond consumer demand for green products and environmentally friendly packaging, governments worldwide are introducing new regulations for both. For instance, London implemented a Plastic Packaging Tax in April 2022, while throughout the U.S. many states have outright banned single-use items often found in e-commerce packaging.
For e-commerce businesses, focusing on green packaging presents a unique opportunity to be a leader. Nothing pleases an eco-conscious customer more than a company actively working to reduce its impact on the environment and meeting all regulatory requirements.
However, staying in sync with green trends and laws is challenging, especially on a global scale. With an e-commerce packaging provider as a partner, you'll have another set of eyes and ears for paying attention to the latest changes.
Optimized Logistics
Nothing eats more time than coordinating multiple vendors and their deliveries.
A single source custom packaging provider takes on the heavy lifting of making sure your business is supplied with what it needs to get your products to customers' doors. Your business will see:
Consolidated supply chain – With a single supplier, there's only one phone call to make when you need packaging materials. This streamlined order process increases efficiency and less time spent on paperwork and tracking packages.

Improved shipping – Consolidated supply also means improved shipping as every piece of packaging is sourced from the same vendor, ensuring compatibility and reducing inconsistencies that may lead to delays or damage during transit.

Cost Savings – A packaging expert's knowledge of materials and best methods will help you to achieve your packaging goals and aesthetic in the most cost-effective and efficient way.

Strategized sourcing – Some times of the year are busier than others. An experienced packaging supplier can anticipate the increased demand and make sure they have enough materials on hand when they're needed most.
On-Brand Packaging
The right packaging reflects your brand image, enhancing consumer experience for repeat purchases and word-of-mouth recommendations.
For most customers, your packaging is their first physical encounter with your band. As such, maintaining a consistent brand image is imperative.
An experienced single-source packaging provider understands the importance of e-commerce packaging design and can work with you to create custom boxes or choose stock options that align with your company's aesthetic. They'll also help make sure all branding elements, from logo placement to color scheme, are accurately represented on every package that leaves your warehouse.
Single Source Provider: A Year-Round e-Commerce Packaging Solution
Though the holiday season is bread-and-butter time for many e-commerce companies, having a single source packaging supplier is advantageous year-round.
When seasonal shipments inevitably increase, your provider can anticipate and meet the demand for packaging materials without missing a beat. Additionally, they'll continue to monitor sustainability requirements and trends to make sure your business stays ahead of the curve.
Partnering with an experienced single source packaging provider means having one less thing to worry about, allowing you to focus on growing your e-commerce business.
Add a Single Source Supplier to Your Team
Contact us today!