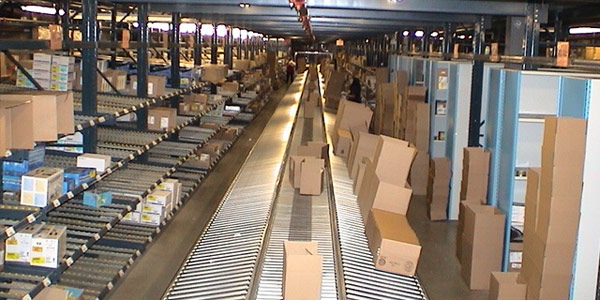 Image courtesy of Dart Logistics
"No one likes to talk about packaging," Bob Janik, President of CS Packaging will say to anyone who asks him about his industry. Why? Well, it's just not exciting for most people and tends to be a hassle to deal with.
But, when you partner with the right packaging distribution company, the hassle is eliminated -- according to Rich Vitek, General Manager of Dart Warehouse Corporation. Not to mention, you want to talk about it and share your experience with others.
A Decade of Delight
Rich has been with Dart for 35 years working with distribution, warehousing, and direct to customer fulfillment. For 10 of those years, Rich has been working with CS Packaging.
The difference between the decade with CS Packaging and the 25 years without are night and day for Rich.
"I've dealt with many, many, different vendors through the years, and nobody has ever performed the way that CS Packaging has," Rich says, adding, "With other vendors you just don't see that hands-on response -- especially for same day ordering. That immediate response time was never there."
The Packaging Problem
There's nothing predictable about packaging and shipping supply needs when it comes to the distribution and warehousing business.
As Rich says, "You might not move anything for a month, but then all of a sudden you need 10,000-20,000 items in one day."
Those items span a wide variety of shipping supplies and can vary greatly. Items CS Packaging provides for Rich include:
Cartons

Air pillows

Tape

Corner post

+ More
The range of items that Rich's customers need, can be just as inconsistent and seemingly random as the frequency in which he needs them.
Unfortunately for Rich, he saw this inconsistency translate to the level of service that previous vendors were providing. For Dart, not knowing if they could count on getting the supplies that they needed for their customers in time was a huge liability.
"With other vendors, you just don't see that hands-on response there -- especially for same-day ordering. That immediate response time was never there."
The Shipping Solution Provided by CS Packaging
CS Packaging was referred to Rich by another vendor that both companies mutually worked with. Once Dart worked with CS Packaging for the first time, they never went back to another vendor for needs CS Packaging could provide.
"They came in after the first order with solid performance and pricing, and the relationship has grown from there."
That strong relationship is built on quick and consistent service, as well as enjoyable interactions with CS Packaging's sales team. Rich says, "They're very friendly people to work with, there's no question about it."
Rich works directly with CS Packaging's President, Bob, and cites his dedication to customer service as being one of the reasons that his experience with the company is so great.
"Bob has driven over tons of tape in a pinch when I needed it in a snowstorm. Bob has gotten a phone call from my office guy that we're out of stock and it's an emergency, and Bob has thrown the items in his car and been to us in an hour or two," Rich explains, adding, "I can't even pick one time, because it's happened so many times."
Stop Running Out of What You Need
Bob Janik and CS Packaging were recommended to Rich, and it changed the way that Dart does business for the better.
Rich wants to pass along that recommendation saying,
"There has never been a time in 10 years that they haven't gotten something to me on time, broken a commitment, or underperformed."
"You really need to switch because the team at CS Packaging can get you what you need, when you need it, without any question. They find a way to get you something if you need it in an hour's time."