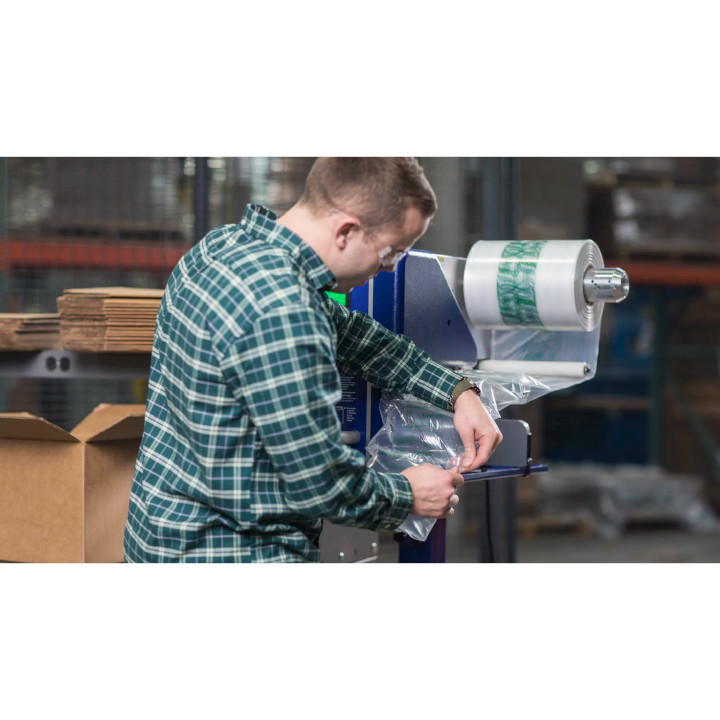 Especially in a time where brick and mortar stores are facing hardship as a result of the pandemic, e-commerce is on the rise at an immense rate.
Because of this uptick in online shopping, there has also been an increased attention to the protective measures taken to maintain the safety and sanctity of the products being shipped.
Check out our top 10 benefits of air pillow packaging for safer e-commerce shipping!
Air pillows are a great void-fill option, best used for blocking or bracing items during shipping. If you need something to stay put, this can be a better alternative to something like Styrofoam.
Air cushion packaging gives you flexible options.

Air pillows are available in a variety of films and sizes to fit your specific need. We carry the right combination of film blends and inflatable designs to fit any of your needs.

This type of void fill is also extremely lightweight, which makes it a popular option to help keep shipping options down as opposed to heavier void fill that may add enough weight to packages to drive costs up.
This is a "clean" type of protective packaging. When customers open their packages, there's no danger of that dreaded explosion of packing peanuts—no need to run for a broom! Similarly, in shipping and fulfillment centers, you won't have the hassle of packing peanuts or other types of loose packing materials littering floors and surfaces.
In addition to avoiding messes from loose materials like packing peanuts, using air cushion packaging materials also lessens the likelihood of protective fillers clinging or getting stuck to your products, whether by static electricity or due to the materials in the packaging.
There are green options available, which is increasingly a concern among customers who are looking for eco-friendly, biodegradable or recyclable options. Air pillow packaging comes in biodegradable and recyclable varieties, allowing you to fulfill customer needs.
Many types of air pillow packaging need to be unrolled and inflated onsite. This allows you to buy rolls of packaging material in bulk while saving on storage space for large rolls of inflated cushioning.
Air pillow packaging is completely reusable in a way that other packing materials like peanuts or foam are not as a result of their various dyes as well as their environmental impact.
The average cost per package to use air cushion packaging materials is often lower than that of other options, because despite having higher initial purchase cost, you are using less material per package, so you are saving money in the long run.
Air cushion packaging is a good supplement to other forms of protective packaging, as it provides ample protection of the products while also keeping the weight of the package down to reduce shipping costs when combined with other packaging materials.
---
At the end of the day, the protective packaging you choose for shipping your products is your choice. We hope that this information will help you make a more informed decision so you can continue to delight your customers.
For more information on protective packaging, check out the CS Packaging Blog!