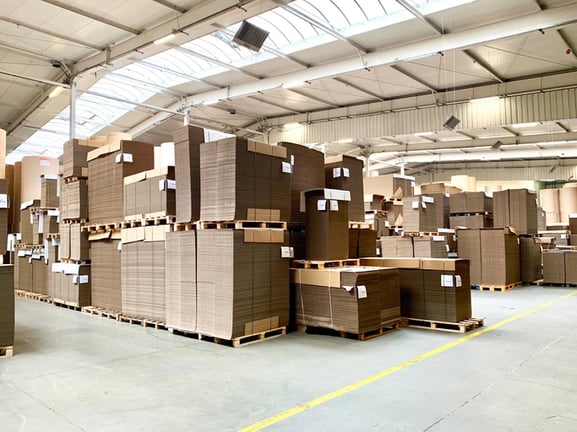 When it comes to shipping a product you have developed or one that you source, a responsible business will want to make sure that their packaging material will not only hold the weight but keep the product safe during transit. The solution? Appropriate corrugated (sometimes referred to as cardboard) packaging.
Because of its design, corrugated packaging is one of the most durable, eco-friendly, and cost-effective packaging solutions for short to long-distance shipping. The products that corrugated packaging protects can often endure bumps, drops and added pressure without incident.
For those just entering the world of shipping and logistics, you may have some questions about corrugated material and boxes. That's why we've answered six of the most frequently asked questions surrounding corrugated packaging:
Why is Corrugated "Cardboard" Used for Packaging? + 5 other FAQs about Corrugated Packaging Material
1. Why is corrugated "cardboard" used for packaging?
Simply put, corrugated packaging provides superior product protection compared to other packaging options. Corrugated packaging can also be customized. While the most common types of corrugated packaging include just one layer of fluting between two liners, if more protection is needed, added layers of fluting can be added. See below for a full size and thickness breakdown:
| | |
| --- | --- |
| Single Face | As the name implies, single face corrugated is corrugated flutes attached to only 1 liner giving an "open face" appearance. This is the least durable type of corrugated but also the most affordable type of corrugated packaging that's available. Single face may be wrapped around non-delicate items such as books to create a shipping envelope or box, or used inside of a box for added cushion and protection. |
| Single Wall | This is the most common type of corrugated package. It consists of one piece of fluted medium glued between two pieces of linerboard. Single wall is ideal for generic products that aren't easily breakable or extraordinarily heavy. |
| Double Wall | Double wall corrugated is essentially single wall cardboard times two. It provides an extra layer of security to any corrugated package by adding a second layer of flutes glued between 3 layers of linerboard. Double wall packaging is usually used for industrial containers or heavy products. |
| Triple Wall | Triple wall is essentially a cardboard substitute for wooden crates. Triple wall corrugated consists of 3 layers of flutes between 4 layers of linerboard. It's ideal for shipping heavy, industrial-grade products. |
Customization isn't the only feature that makes corrugated "cardboard" a good match for packaging, corrugated packaging material is also:
Sustainable: C

orrugated is one of the easiest types of packaging to recycle.
Cost-effective:

Corrugated boxes are some of the least expensive cartons available, and don't require costly tools to manufacture or high labor costs.
Lightweight and Easy to Store: Corrugated material is typically very lightweight and easy to handle, both in the storage and shipping processes. Corrugated boxes also don't add much weight to the overall package, making them a cost-effective solution for both the end-user and manufacturer or distributor.

2. What is corrugated packaging?

Corrugated fiberboard, or "combined board," has two main components: the liner and the medium. Both are made of a special kind of heavy paper called containerboard. Linerboard is the flat material, typically on the outer surfaces of the board but also on the inside for some structures, that adheres to the medium. Medium is the paper that is formed into arches or flutes on a single face and glued between the linerboard facings.


3. Does a UPS, FedEx, or USPS package have to be in corrugated "cardboard"?
The simple answer: No. Your packages can and should be shipped in the material type best suited to protect your product. While you should always double-check the shipping requirements for the item(s) you're shipping, USPS typically recommends corrugated but does not require it.


4. Are corrugated boxes eco-friendly?
Yes, corrugated packaging is an eco-friendly choice -- of all the packaging materials available, corrugated packaging has the highest recyclability rates since most communities, towns, and cities have established recyclable routes similar to trash collection.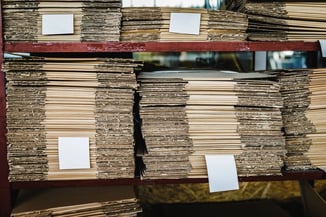 Corrugated packaging is also easily customizable to eliminate excess material waste. This in turn reduces the material that's being wasted after usage (since corrugated boxes are entirely recyclable). The entire container can be either reused or easily broken down and recycled.
The corrugated industry also has the best recycling rate of any packaging material used today. -- The next time you receive a corrugated box, chances are the materials making up that box are composed of 70% to 100% recycled materials, since corrugated fibers can be recycled up to 25 times.


5. Where can I buy corrugated "cardboard"?
CS Packaging's eCommerce Store has a wide variety of corrugated boxes. However, to ensure you're getting the best quality and price, it's important to work with a trusted supplier's team specializing in corrugated boxes and corrugated material.
6. How much does corrugated "cardboard" cost?
The cost of corrugated cardboard depends on its size, the number of fluting layers, specializations added on, and the quantity ordered. Check out our online store for full pricing details or reach out to one of our talented sales specialists for more information.
Corrugated "Cardboard" Material | Trust the Experts
When it comes to corrugated cardboard, aside from just the ability to hold many different weights, corrugated material is one of the best industrial packaging solutions thanks to its ability to protect your products, keep your total costs low, and have a low impact on the environment.
For more information about corrugated packaging solutions, check out one of the blogs below or download our free Protective Packaging guide below:
More reading:
Have questions about the types of boxes CS Packaging offers? Download our free guide below: