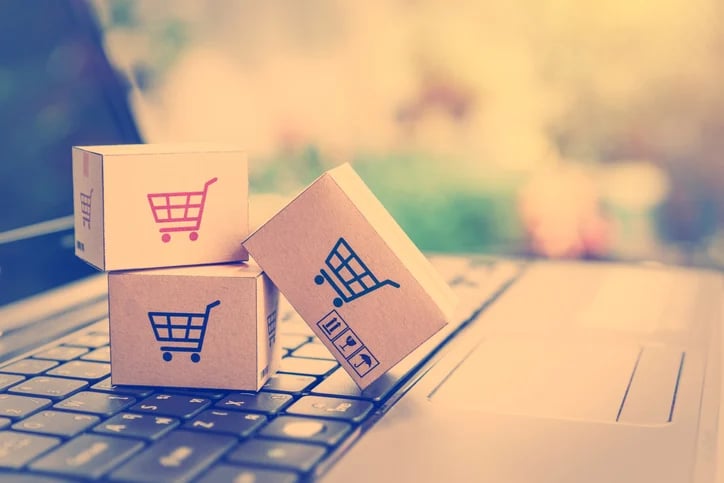 Customers don't often give a second thought about the packaging their order arrives in.
Usually unassuming and sometimes cumbersome, a package is just part of the online shopping experience – and headed straight to the recycling bin without another thought.
However, the packaging products arrive in can play a crucial role in customer satisfaction and brand image.
Custom packaging for eCommerce allows business owners to showcase their brand better and differentiate themselves from competitors. A well-designed custom package communicates quality and attention to detail, leaving a positive impression on customers. Additionally, custom eCommerce packaging design provides added functionality, such as including instructions, promotions, or thank you notes that further enhance the customer's overall experience with a brand.
Investing in a custom package design may come at an initial cost, but it can pay off in increased customer loyalty and repeat purchases. In today's competitive e-commerce market, standing out with a unique and high-quality package can make all the difference.
Why Custom Packaging for e-Commerce Should Never be Overlooked
Packaging is more than just the box or envelope that an order arrives in. For the recipient, it's the first part of the overall experience of interacting with an e-commerce company in the real world. For an e-commerce business or company that also sells products online, packaging is a means to connect with a customer.
An investment in custom e-commerce packaging is an investment in:
Fewer returns for damaged products
Better unboxing experience
Less waste
Cost-effectiveness
Upgraded real-world exposure
1. Fewer Returns for Damaged Products
When customers receive a product that's been damaged in transit, it's frustrating and usually leads to a return. Custom packaging helps reduce the number of damaged returns by ensuring that products are more securely packed and arrive at their destination in one piece.
Regardless of fragility, a well-designed custom package features thoughtful and adequate protection for products while in transit. It's also a buffer for your business – returns and replacements cost money.
2. Better Unboxing Experience
A well-designed custom e-commerce box can set the tone for the entire unboxing experience. It can create a sense of anticipation and excitement, leading to a higher rate of customer satisfaction.
Ease of opening is an important consideration for a good unboxing experience. When opening the package is easy and frustration-free, it makes the entire unboxing process more enjoyable for customers. Easy-to-open packaging also helps reduce the likelihood of damage to products during unpacking.
3. Less Waste
Put simply, custom packaging reduces waste.
Designed specifically for the items it's protecting, custom packages only use what's needed. Both you – and your customers – won't pay for unnecessary materials and scrap is minimized.
Packaging with a lower environmental impact is becoming increasingly important to consumers. Businesses that invest in custom packaging with an eco-friendly design are more likely to stand out from the competition and attract environmentally conscious customers.
With integrated recyclable materials, sustainable custom packaging goes to the next level in reducing the amount of materials that end up in a landfill.
4. Cost-effectiveness
Custom packaging doesn't have to be expensive – in fact, it can often be more cost-effective than using standard packaging from a supplier.
Why?
Generic packaging is one-size-fits-all. Custom packaging is tailored to fit your specific needs. That means you won't have any wasted space or unused materials.. Everything about your packaging is concise and serves a purpose.
5. Upgraded Real-World Exposure
A well-designed custom e-commerce box promotes your brand in the real world. For companies that don't have a physical storefront, custom packaging can serve as a way for customers to see and interact with your brand outside of the online space. In other words, it's the only physical interaction they'll have with your business.
Plus, it's an opportunity for repeat advertising as customers may keep and reuse the packaging. When customers see your product being used in everyday situations, it helps create a connection between your brand and your target audience.
Achieving a Good Look with e-Commerce Packaging
With carefully designed e-commerce packaging, brand perception gets an upgrade – even if it's within customers' subconscious. It's no longer just about the product they purchased, but also how it was presented and delivered.
e-Commerce packages are also a means to communicate company values. Take sustainability, for instance. As mentioned, showing customers a commitment to the environment goes a long way. Fully recyclable packaging or packaging made from recycled materials demonstrates your company's priorities in action. Or, if the online order includes any fragile or valuable items, integrating additional layers of protection or higher-strength materials showcases your company's commitment to quality control.
Custom Packaging for e-Commerce | An Investment That Pays Dividends
Packaging is one of the most important aspects of e-commerce. It's often the first impression a customer has of your product, and can be the difference between successfully completing a sale and losing a potential repeat customer.
Designing custom packaging for eCommerce sales can be challenging. To that end, it's important to partner with an advanced packaging solutions provider like CS Packaging early in the process. Advanced packaging solutions providers can help you navigate a host of issues, such as which materials, inks, fill options, and custom or protective options should be integrated and used.
CS Packaging has proven experience working on all types of custom packaging designs. With a plethora of stock and custom options, CS Packaging aims to be your one-stop shop for all your shipping and packaging needs.
Have Questions on Which Type of Packaging You Should Use?
Download our Protective Packaging Consideration Guide below or reach out to our dedicated and talented sales team with all of your packaging questions: