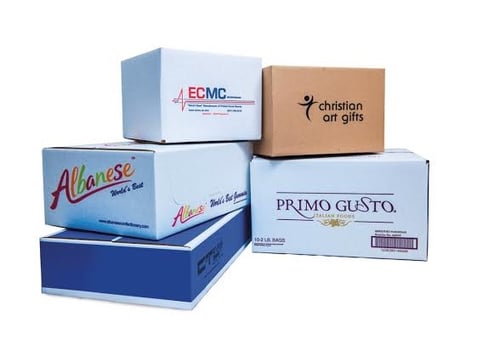 When it comes to selecting the packaging you will use to ship your products, you certainly have a lot of options.
One of those options is electing to have custom printed packaging made with your company's branding. There are many reasons as to why someone might choose to do this, as well as many reasons why they might prefer not to.
Here are our professional opinions on some of the pros and cons of ordering custom printed packaging.
The Benefits of Custom Printed Packaging

Custom printed packaging has many unique benefits associated with it, such as:
Making an impact

Improving customer experience

Protection

Reduced shipping costs

Advocacy and sustainability
Making an Impact
Custom packaging makes your brand memorable. When you're solidly into brand-building mode and need to make a serious impression on your customers, nothing stands out the way that custom packaging will.
Custom printed boxes will stand out, making people acquainted with your customers ask what they received or quietly look your company up in the background.
If you've done a good job of creating a good impression with your customers, this can lead to a lot more sales.
Improving Customer Experience
Instead of simply receiving a product that has been tossed in a plain cardboard box with some packing materials, the customer can have a better experience as a result of the product's presentation.
This allows you to present your product in the best possible light, improving the overall customer impression and building an expectation of quality.
Protection
When you have fragile or oddly-shaped items, they may break more easily.
However, if you use custom packaging, you can tailor the packaging to your products instead of having to make do with ready-made materials.
This allows you to drastically reduce your losses with specific cushioning and suspension points designed for your products.
Reduced Shipping Costs
Based on the product, opting for custom printed packaging may reduce shipping costs. If your product's size requires you to step up to a much larger ready-made box, custom packaging can be ordered in a more appropriate size, saving you on shipping expenses.
These savings may very well provide you with a reason to make the jump to custom packaging, allowing you to take advantage of its other benefits as well.
Advocacy and Sustainability
How much thought are you putting into your brand's social or environmental impact? With every sale, is your company donating to save orangutans of the Siberian rain forest?
Do you use sustainable, recycled packaging? Your customers may never know if you don't tell them. Custom packaging lets you tell your brand's story every time a customer opens the box.
The Drawbacks of Custom Printed Boxes
While there are many benefits associated with custom printed packaging, there are some drawbacks that deter people from choosing it, such as:
Cost

Discretion (or lack thereof)

Lead times




Cost
Custom packaging is often more expensive. Because it is not in a standard size, color or format and requires design and production, custom packaging is typically more expensive than ready-made packaging options, which may put it out of the reach of some businesses.
Discretion (or Lack Thereof)
Depending on the products, consumers often value discreet packaging - especially when ordering items that they'd prefer to keep private.
Custom packaging isn't inherently guaranteed to expose the contents of a shipment, but displaying your branding and maintaining some modicum of discretion could prove to be difficult to do at the same time, and would likely require extra time and money to achieve.
Lead Times
One downside of custom packaging is that it is pretty much guaranteed to take longer from start to finish than standard, ready-made materials.
Because it takes time to develop a design, create the packaging and print the design, then ship it to your warehouse, you'll either need to keep plenty of stock on hand or plan on working around the issue should you run out during a particularly busy period of time.
Wrapping Up
Though there are benefits and drawbacks to opting for custom printed packaging to ship products, there is no concrete answer as to whether or not any particular company "should" or "shouldn't" utilize custom shipping materials.
The decision should be made by considering the pros, as well as the cons, and ultimately deciding if the benefits would outweigh the potential risks.
For more information on all things packaging, check out our blog!